There is a tribe which silently serves, champions and crusades for the children of the lesser god by donating all their wealth, time and shower them with their unconditional love and care.
They selflessly help the society by caring for the underprivileged and their work definitely needs help and a wider reach. Listing two of them here which have had a great impact on me.
The first in the list is Mr. Vidyakar and his Udavum Karangal( helping hands) an NGO based out of chennai, whose advertisements seeking volunteers and donations have always caught my attention.
Udavum Karangal - Because everyone deserves a home!
Udavum Karangal (Helping Hands) is a registered, non-governmental, non-religious and non-profit social service organization, established in 1983, with the sole objective of serving people in need.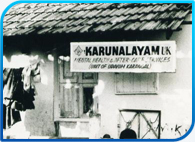 Life surprises you when you are least prepared for it. For Mr.Vidyaakar who was running a small community centre in the slums of NSK Nagar, surprise came in a ragged bundle of clothes. Within it was a frail child crying his heart out and reaching out to him with his puny fingers. When he gave his hand for the little boy to hold, it was the beginning of an ardent journey. Udavum Karangal (Helping hands) was thus born to help anyone who needs a hand to stand and to this day, it continues to give hope where there exists none.
Udavum Karangal believes that everyone deserves to be loved. Till date, there have been around 2000 unfortunate brethren from new born babies to dying destitutes who have found a home here. The centre provides individualized services - treatment, care, rehabilitation and education.
Anything i write more about this would only be a repeat of their website so click on that to know more.
courtesy:
Udavum karangal
The second NGO in my list is CNN hero Narayanan Krishnan and his Akshaya trust. I first heard and saw his interview on TV when he was shortlisted as one of the Top ten CNN heroes for world. His video clippings feeding the needy was all over the social networking sites and on national networks and moved many to tears.
In 2002, Narayanan Krishnan, a gifted young chef from Madurai, India, was working for an exclusive hotel group preparing haute cuisine for the ultra-rich. But when he went home to Madurai to visit his family, something he saw shocked him to his core."I saw a very old man eating his own human waste for food,"
Krishnan knew he couldn't go back to the gourmet restaurants he'd been working in when his own countrymen were starving to death. So he decided to stay in India and began fixing meals for that man, and for the countless others who could not care for themselves.
The following year, he founded the nonprofit group Akshaya Trust. The organization is named from the "Akshaya bowl" from Hindu mythology, a bottomless inexhaustible bowl that can feed the hungry forever—just as Krishnan hopes his group will do.
Each morning, Krishnan and his team rise at 4 AM, and seek out the homeless throughout a 123-mile radius, armed with packets of hot vegetarian meals that Krishnan has prepared by hand. He brings the meals to a crowd of about 400 regulars, and gives them free haircuts and beard trims when they need it. In the years since starting the nonprofit, he's served over 1.2 million meals.
His recipients are nearly all mentally ill, and do not have the capacity to thank him. Nonetheless, Krishnan receives great pleasure from the work he does.
"I get this energy from the people," he said. "The food which I cook ... the enjoyment which they get is the energy. I see the soul. I want to save my people."
For more on him and his work check out their site akshaya.
And there are celebrities who care and have initiated AGARAM and BEING HUMAN, the various corporates which serve as part of their corporate social responsiblity and schools which serve through the social service clubs, thus inculcating the value of compassion, share and care for the needy.
All these unsung heroes deserve space on our blog, newspapers and other media. Don't they?
May their tribe increase!!!